Maximilien Drion is getting ready for his winter season
Maximilien Drion who we are proud to sponsor is getting ready for his winter season.

BORMIO WITH CRAZY
As I had already mentioned in my previous Newsletter, I was invited in Bormio by Crazy – The Original Ski Touring Clothing. These few days with them allowed me to share some training and pleasant moments with the other sponsored athletes as well as to exchange on the values of the company and their products. Being in Bormio also allowed me to visit Ski Trab, my ski sponsor. At the end of the three days spent with the Crazy athletes, I decided to spend a few more days on site, at the Stelvio pass at 2750m altitude. Well took me because in the space of a day, there fell more than a metre of snow! The dream! So, I was able to enjoy excellent training conditions and open my appetite for the season ahead.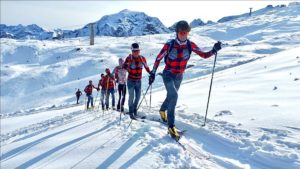 LA DÉRUPE
When I returned to Valais, I continued the training, this time on foot, because the snow had not fallen in abundance on that side of the Alps. I took the opportunity to take part in the Derupe, a mountain race that connects Chalais to Vercorin (5km/800m vertical). The event that was to take place on October 25th had finally been transformed into a month-long race where participants could freely choose the day they set off on the climb. Living in Vercorin since 2008 makes this race particularly important to me and I have great memories on that race. My goal was to improve my best performance on this climb (33'54 in 2019). This year, I clocked 31'17 on a course slightly shortened for safety reasons. When comparing this year's course with the one of 2019, I came to the conclusion that this year's course was about 1min50 shorter. It means that my time on the official course would have been 33'07, a solid improvement over 2019!
My times in recent years show a nice progression …
2016 : 35'42
2017 : 35'03
2018 : 34'17
2019 : 33'54
2020 : 33'07
Who wants to try to guess my 2021 time? The course record is 32'56 (Saul Antonio Padua in 2018), will it fall in 2021?

TRAINING CAMP IN ZERMATT
Following this very good performance, I went to Zermatt to join the Swiss team and train with them for a week. I was very happy to find them and put the skis back on. It was a very busy week of training during which I felt excellent sensations. In addition to the four to five hours of daily workouts, I am surprised to still have the motivation and concentration to study and take my online courses for my Master in Management.
Here is an excerpt from one of my days (November 12):
6h30: Wake-up call
6h40: fasting in the streets of Zermatt
7h00: lunch and preparation of equipment for ski training
8h15: travel by gondola from Zermatt to Trockener Steg (2940m)
9h – 12h: Ski mountaineering training between Trockner Steg and the Breithorn (4164m)
12h00: Redescent in Zermatt
13h00: Meal
14h – 16h: Studying for university
16h – 17h: Running training
17h15 – 17h45: Core training
18h – 19h: Studying for university
19h00: Meal
20h – 21h: Relax (card games all together)
21h – 22h30: Studying for the University
22h30: 20min stretching
23h00: In bed
That week in Zermatt, as you can see, was very rhythmic…
Back in Vercorin, a very busy second week was waiting for me, but this time I had to be a little more creative to be able to ski. Indeed, with a friend, we climbed to the Bishorn (4150m). For this, we had to walk from Zinal (1600m) to about 3000m. From there, we put on our skis and roped ourselves to cross the glacier and reach the summit. The view was beautiful, it was a great adventure.
A few days later, I followed up with a second 4000m summit, the Allalinhorn, a summit that is easily accessible from the Saas-Fee ski slopes. It was another beautiful sunny day.
Since then, the snow continues to be desired and I still can't train on the slopes of the Val d'Anniviers (the opening is scheduled for December 12). I adapt and train more in running and I try to put the skis a few times a week in Verbier, Thyon, Saas-Fee or Crans-Montana.
Training continues as the first World Cup scheduled for 19-20 December in Ponte-di-Legno, Italy, has been confirmed.